EXPERIENCE IN ACTION! DesignBuild in Architecture / CLOSED UNTIL APRIL 20, 2020
MARCH 19 – SEPTEMBER 13, 2020 in MUNICH – EXHIBITION CLOSED UNTIL APRIL 20 –
TUM's Architecture Museum is opening its largest and most comprehensive exhibition on "DesignBuild" to date – a teaching method which has a long tradition, but in recent years has become an increasingly popular concept at many universities. The purpose of the exhibition is therefore to inform the general public about the social impact and longterm significance of this teaching method.
Curator | Vera Simone Bader
Exhibition architecture | Labor Fou
Sponsor | Sto-Stiftung, Pin. Freunde der Pinakothek der Moderne, Arte Generali
CONFERENCE / MARCH 18, 2020 – cancelled –

Organized to coincide with the opening Experience in Action! DesignBuild in Architecture, this conference provides a platform for discussions of the contents of the exhibition and the accompanying catalogue, under the categories Interdisciplinarity – Evaluation – Local vs. Global.
Ernst von Siemens-Auditorium
in der Pinakothek der Moderne
​Barer Str. 40, 80333 Munich
10 a.m. – 4:30 p.m.
PUBLICATION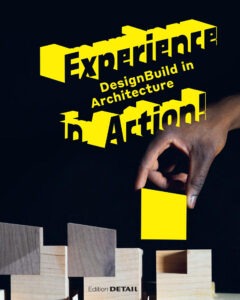 Edition Detail
DesignBuild is a method of instruction that students use to design and build actual projects at several architecture schools around the world, often in developing countries, but sometimes on their own doorsteps. With DesignBuild, students gain experience that goes far beyond planning and design. The focus is on temporary buildings and long-term projects, experimental approaches and interventions into infrastructures. With respect to the main aspects of research - dialogue - design - build, research contexts and processes of individual projects come under discussion. Constructive aspects and social exchange are also important. The book provides a critical overview of the most exciting DesignBuild projects worldwide.
Editor | Vera Simone Bader and Andres Lepik
ISBN number | 978-3955535148
Price | 34,90 €
CONFERENCE / MARCH 18, 2020 (PDF)
download